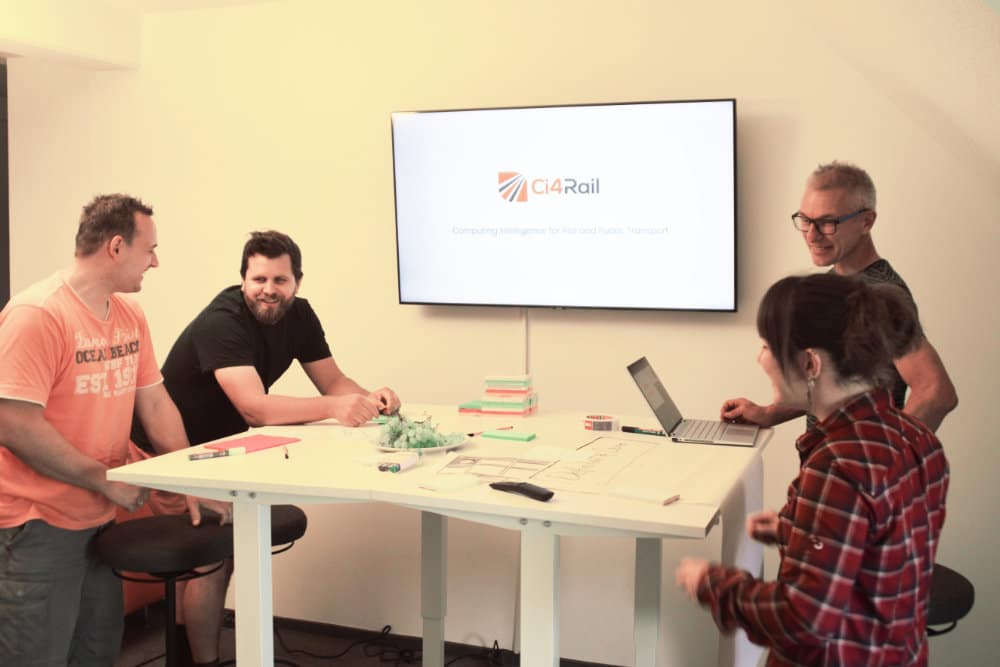 Ci4Rail is a young, dynamic company, based on many years of experience in the railroad market. Our goal is to support each customer in the digitalization process, to increase transparency of your proper solution and to improve its value sustainably day by day. We are pushing the digitalization of railroad and public transport with world-changing technologies such as the Internet of Things (IIoT) and Machine Learning (ML).
You are interested? Then become part of our team!
Your contact: Mathias Beer (CPO), Tel 0911 477 133 70
As you can imagine, the tasks in a young company are diverse, but always exciting and varied. Openness and curiosity for new technologies and new ways of working is a basic requirement. With us, you have the opportunity to make a difference and help shape the solutions and you will not find yourself in rigid hierarchies. We are already curious about you!
If you don't find a suitable job offer at the moment, please send us a meaningful speculative application at any time – we are happy to receive it.
Apply now at: hr@ci4rail.com
Hardware-Developer (m/f/d)
Your tasks, responsibilities and options:
Complete agile design process from the idea to the serial product
Hardware, layout and mechanical design of electronic assemblies and devices
Development of CPU, IO, communication and power supply modules
Development of intelligent sensors
Use of energy harvesting technologies
Support of the products during environmental qualification and approval
Close cooperation with the agile developing software team
What you should bring:
Enjoy teamwork, also in an agile environment
Creativity and fun in tackling things yourself and realizing your own ideas
Know-how in the development of hardware paired with the openness to also write a piece of software
Would like to learn more and pass on the knowledge
Degree in electrical engineering (Dipl.-Ing. / Bachelor / Master) or comparable education
Cloud-Engineer (IoT/IIoT/Kubernetes) (m/f/d)
What we do:
We create and operate an open source IoT platform to acquire data locally at the edge and pre-process it through unreliable networks. We do this with kubernetes, where each IoT device is a node in the k8s cluster. With our solution we take digitalization in rail and public transport to a new level.
What you should bring:
Enthusiasm for kubernetes and its ecosystem
You can develop software, preferably in go
At best, you have already gained experience in open source projects
You are familiar with modern software engineering
You like to work closely in a team and let others benefit from your knowledge
You love automation in all areas
You are curious about modern technologies and always looking for the most effective solution
Ideally, you also have experience running cloud stacks.
What we offer:
Work on an open source project
Work remotely or in the office, as you like.
Latest technology stack
A place for your ideas
An organization without hierarchies and bureaucracy
Architecture, implementation and processes we design together to make the project successful.
Free choice of your development environment and operating system

Flexible working hours; home office arrangements
Unbureaucratic coordination with your team.

Creative, agile development processes
Instead of rigid processes, the customer and the product are in the foreground.

Collegial environment
Open atmosphere, a simple YOU also with the management.

Ongoing targeted training measures
We would like to train our employees – both in-house and off-site.

Fitness
We meet several times a week for running sessions – also during the lunch break. We support any form of exercise.

Bicycle leasing
You can lease your dream bike through the company.