Our modular and flexibly expandable Railway Edge Computer ModuCop adapts to a wide variety of vehicle interfaces and thus represents the basic platform for numerous applications in the vehicle.
Performance
Outstanding performance on smallest installation space
Quad-Core ARM(R) Cortex A53; Cortex M4F
2 GB DDR4
16GB eMMC integrated
uSD Card slot
Power consumption < 8W
Interfaces
Highly integrated - and extendable
2x 1GBit/s Ethernet
1x USB 2.0
1x RS232
GPS
Wi-Fi IEEE 802.11 ac/a/b/g/n
LTE CAT6
2x Nano-Sim slot
1x USB 2.0 (OTG-capable)
1x UART service interface
Expandable through modular I/O extension concept
Power Supply
Optimized for rail vehicles & buses
Rail Vehicles:
24...110V DC (nom.)
14,4...154V DC wide range input
compliant to EN 50155:2017 - Class S2
Road Vehicles:
12 / 24V DC (nom.)
9...50V DC wide range input
compliant to ISO 7637-2
Mounting
For installation where no place left
DIN Rail TH35 via accessory
Wall mount via accessory
19'' Rack-mount via accessory
ModuCop offers room for up to 9 extension modules
Height: 111.5 mm
Depth: 61.2 mm
Width depends on expansion stage

1 ext. (4 slot / 28 HP); 142.3 mm
3 ext. (6 slot / 42 HP); 213.2 mm
9 ext. (12 slot / 42 HP); 426.8 mm
Product Family
A computing concept - constantly expanded
Due to the flexibility and scalability of the ModuCop family, we enable you to configure a product tailored to your application. And that in the smallest installation space.
Our Railway Edge Computer allows full flexibility in:
Computing Performance
Interfaces
Power Supplies
Mounting
Environmental & Certification
Qualified for rail vehicles & buses
Rail Vehicles:
CE-certificate
EN50155 compliant
Road Vehicles:
Detailed environmental information can be found in the data sheet
Order Information
Full flexibility for your application
Order information:
S100-MEC01-: ModuCop Rail
S100-MEC02-: ModuCop Automotive
Accessories:
Mounting kits for Din-rail, rack, wall mounting
LTE Modems, Mass storage
Please contact us for specific configurations.
Software
Open Source, managed for a life time!
Integrated Linux Microservices Platform (LMP):
Based on Yocto Linux
Container Runtime for your applications
Software / Hardware LifeCycle Management from one hand!
Supports remote management, Over-the-Air updates and distributed applications between edge and cloud
Trusted Computing Environment - protects your devices. applications and communication
The diverse world of Box PCs is being standardized. Under the umbrella of the standardization organization PICMG, we are standardizing the future of Box PCs together with a large number of companies from the embedded area. This is ModBlox7!
In doing so, we combine the advantages of BoxPCs such as high integration density and cost sensitivity with small installation space with the benefits of modular systems such as interoperability between manufacturers, thereby minimizing vendor lock-in and obsolescence risks.
Standard is planned to be released early 2023. Produkts are aligned to current state of standard and may be compliant to final version. Picture: Courtesy of PICMG
Every application in the field is unique and requires different interfaces. The Railway Edge Computer must also adapt to this. Where a well-equipped basic computer is not enough, modular extension modules allow flexible add-ons.
You can expect a flexible portfolio of fieldbus and communication interfaces such as CAN, serial interfaces, Ethernet and MVB as well as discrete binary and analog inputs and outputs.
Tailor to your needs.
IOU01 – Rail Compliant Discrete I/O
You need to acquire analog data from external systems, e.g. from analog sensors? Or do you need the possibility to control digital switching elements or to react to  their changes? Then simply configure the IOU01 extension into your Railway Edge Computer.
Product Features*:
Single Slot ModuCop extension unit
2×2 digital inputs / outputs (selectable) via 4-pin spring terminal; 0..110V (nom), common ground or common supply
2×1 analog input via 4-pin spring terminal; Selectable voltage (+/-10V) or current (0..24mA) type
24V supply to external sensor
galvanic isolation (4 groups)
useable as direct I/O or as data logger with multiple data streams
*available as prototype
IOU02 – 4-Port Gigabit Ethernet Switch
To connect our intelligent sensors and converters, simply use additional Ethernet interfaces. Power supply for the external components by PoE included. Even without sensors, Ethernet interfaces you never have enough!
Product Features*:
Single Slot ModuCop extension unit
4x 1 GBit/s Ethernet (switch) via 8-pin M12 x-coded
PoE Power-over-Ethernet (PSE) IEEE 802.3af **
Smart managed
*available as prototype
**PoE power budget depends on selected ModuCop power supply (PSU0x)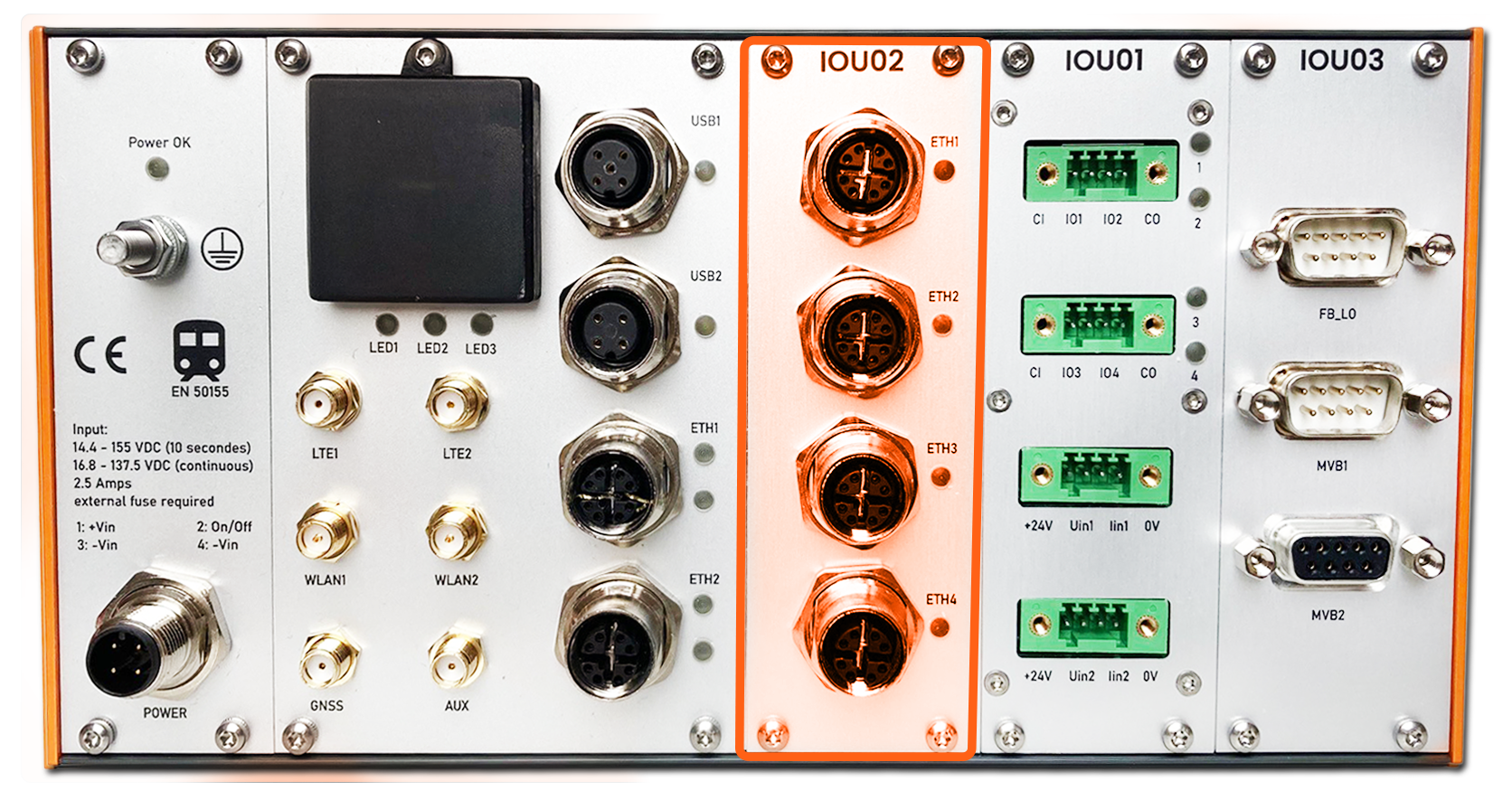 IOU03 – Non-retroactive MVB / CAN Interfaces
In order to record existing vehicle data, it is essential to acquire data from the vehicle bus.This must be done in non-retroactive manner to minimize the risk of a vehicle re-certification. Our IOU03 was developed not to influence the electrical properties of vehicle buses.
Listening without any worries!
Product Features*:
Single Slot ModuCop extension unit
1x MVB Listen only via 2x 9-pin Dsub (male / female)
1x CAN listen only via 1x 9-pin Dsub (male) or alternatively
1x RS485 listen only via 1x 9-pin Dsub (male)
Data logger functionality: receives multiple time stamped data streams
galvanic isolation
integrated micro controller abstracts I/O functionality and offloads the Railway Edge Computer
*available as prototype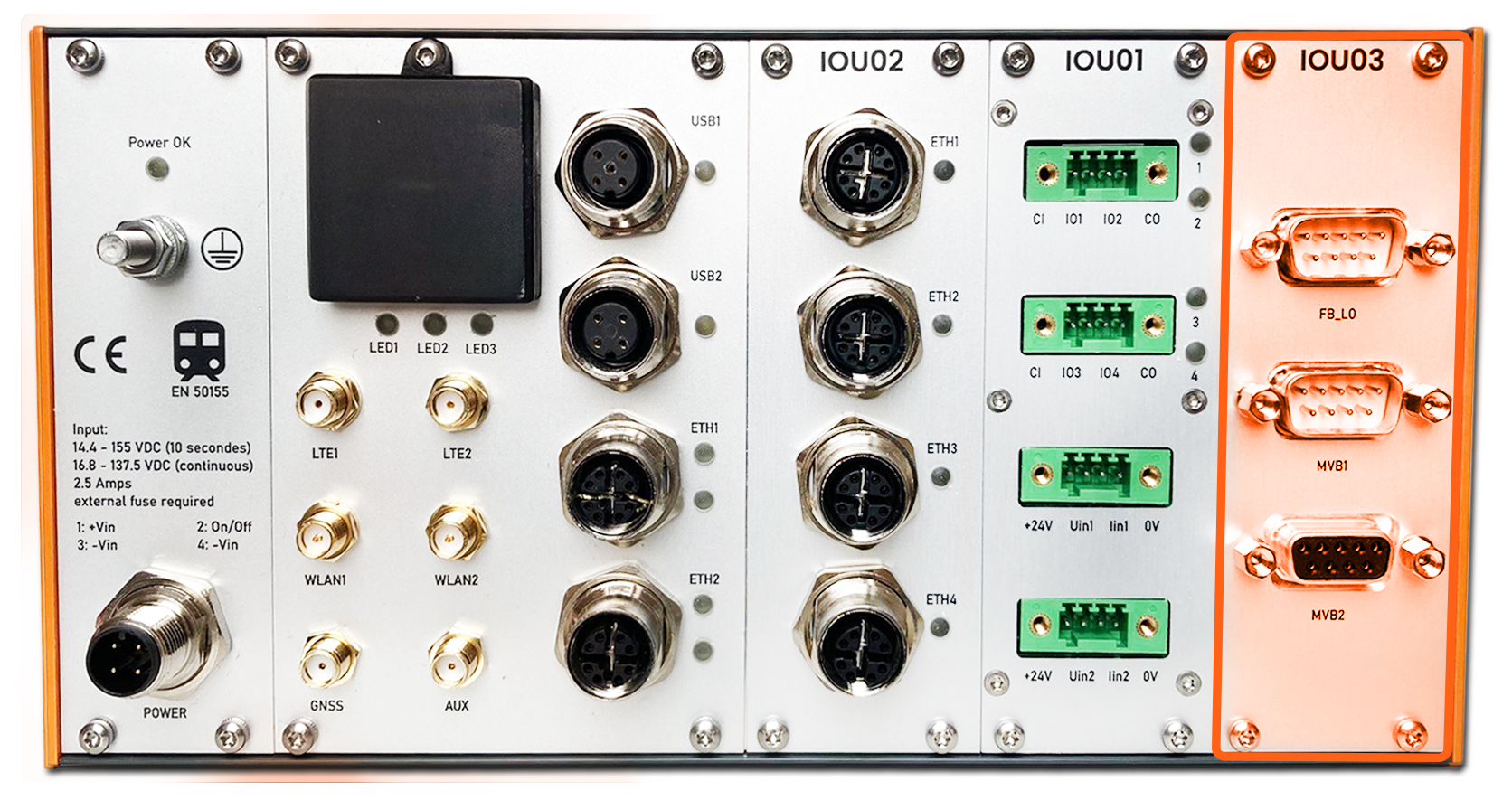 IOU04 – Serial Interfaces and CAN 
Data acquisition in buses or trains always means being able to connect to a wide variety of existing vehicle systems. Common interfaces are CAN and serial interfaces. With the IOU04 you find a simple possibility to upgrade the Railway Edge Computer with these interfaces.
Product Features:
Single Slot ModuCop extension unit
1x CAN up to 1 Mbit/s via 9-pin-Dsub (socket)
SW-configurable for listen-only mode; usable as direct I/O or data logger with multiple

time stamped data streams 

2x RS232/422/485 via 9-pin-Dsub (socket); Linux TTY device support
Galvanic isolation per interface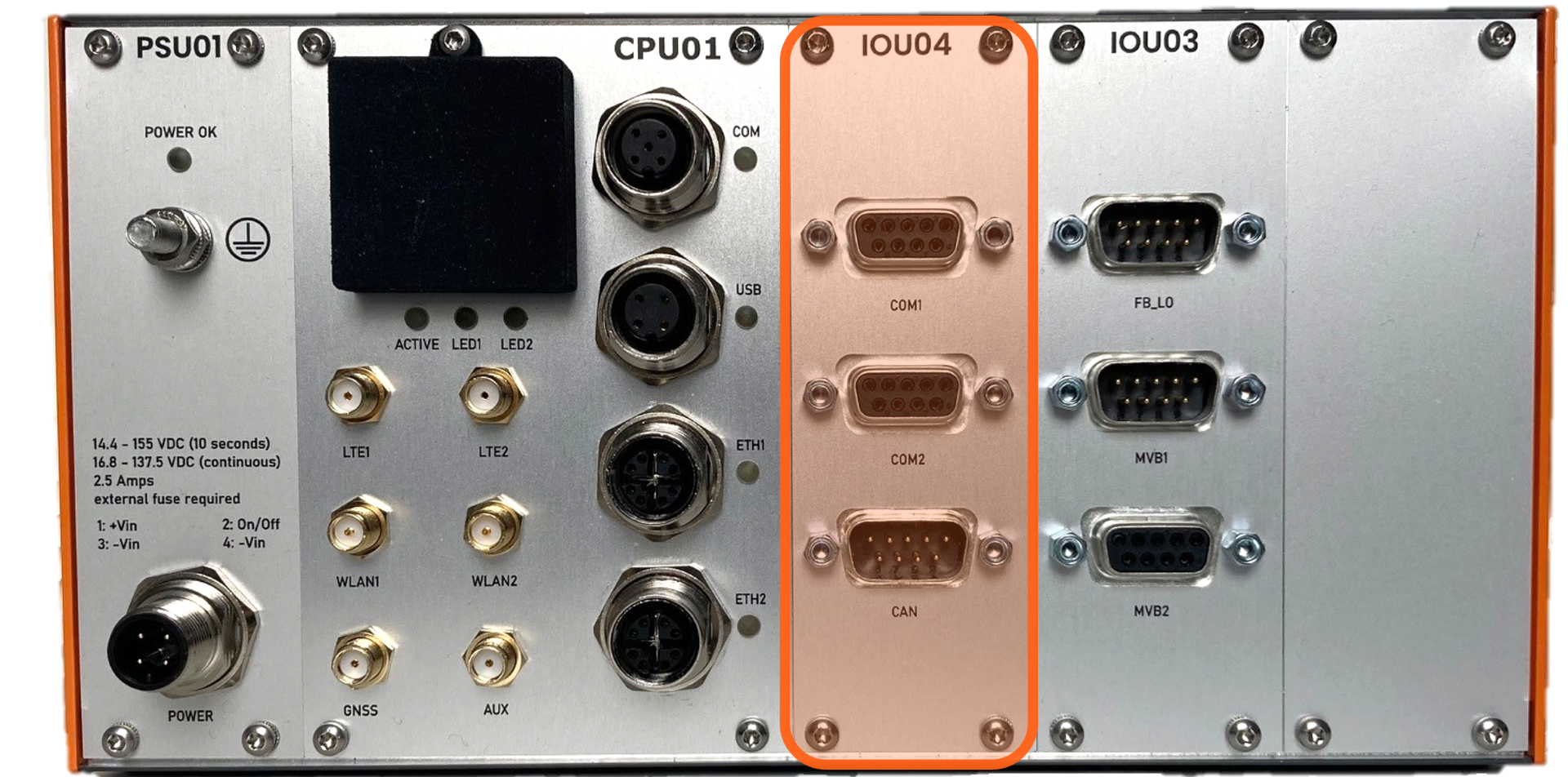 IOU06 – Interface Extension for Bus Applications
In public transport, the interfaces differ significantly from those of the railroad.
With the IOU06 you will find a simple way to address the typical interfaces in the bus and thus make your ModuCop an onboard computer.
Product Features:
Single Slot ModuCop extension unit
1x IBIS Master (24V, 100mA)
1x CAN up to 1Mbit/s
1x RS422/485
1x Audio Interface (2x Line Out, 1x Line In)
2x Digital Outputs
Galvanic isolation per interface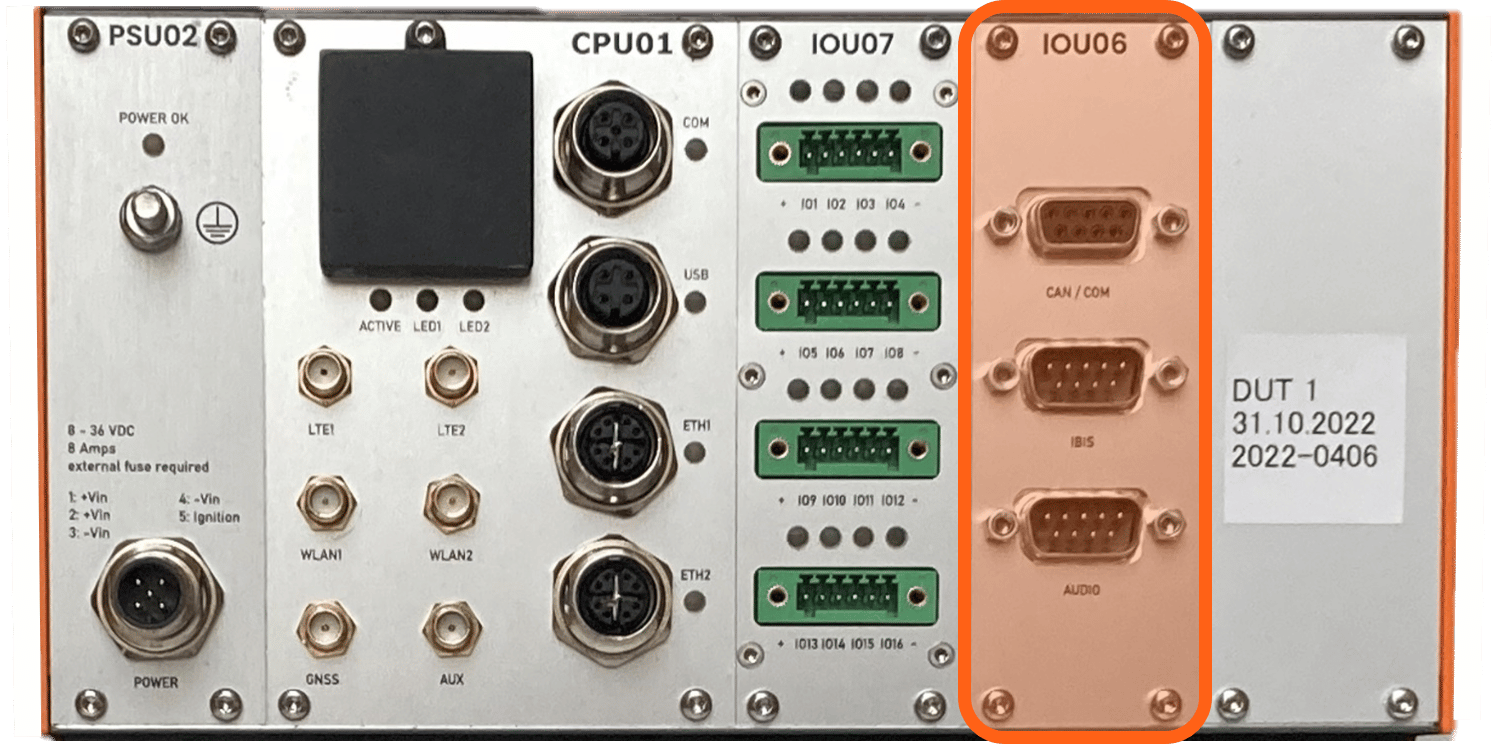 IOU07 – Digital I/O with High Density
You can never have enough digital input/outputs, regardless of whether in a train or bus.
The IOU07 expands your ModuCop by 16 freely configurable I/Os on smallest installation space and minimal costs per I/O.
Product Features:
Single Slot ModuCop extension unit
16x Digital Input / Output (24V)
Integrated I/O diagnosis
useable as direct I/O or as data logger with multiple data streams
Status LEDs per I/O
Galvanic isolation in 4 groups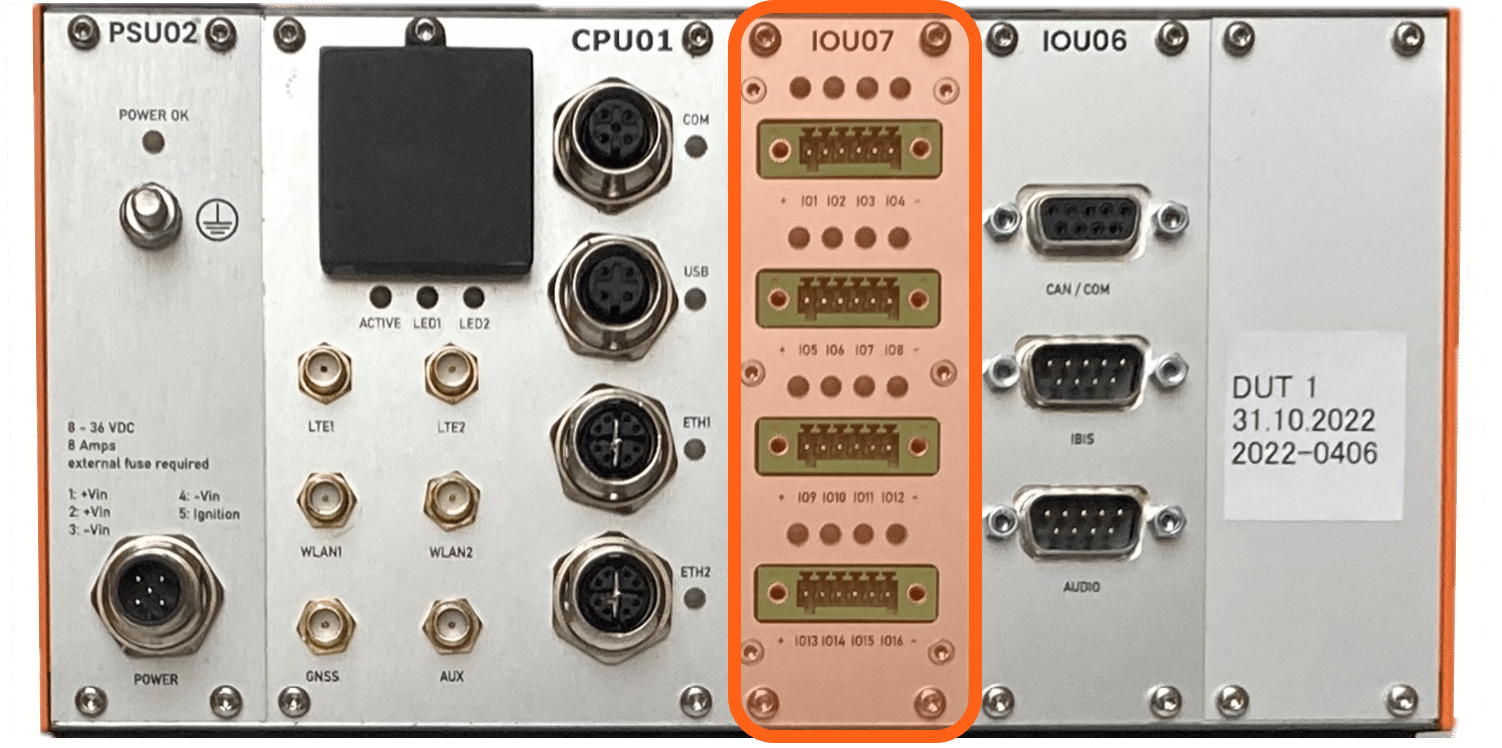 With ModuCop, we offer a product family of Railway Edge Computer and automotive board computer that is unrivaled in its flexibility and modularity. The modularity allows us to constantly expand the family with partial developments; in its functions, but also in its performance and actuality. Obsolescence is practically excluded.
ModuCop is not a product – it is a family! Due to continuous development you benefit from the latest processor technologies and constantly growing input/output extensions in an always compatible form factor. Combine the required interfaces with the desired computer performance in your applications and get the optimal composition for your project. No matter if in bus or train! The corresponding Linux Microservices Platform grows with the functions of the hardware as a matter of course.
The best answer to obsolescence!