Our IP-based Modular Smart Input/Output modules for rail and public transport intelligently close the gap between any data source and the control computer. IP-based connections (LAN, WLAN) guarantee independence, abstraction and easy integration.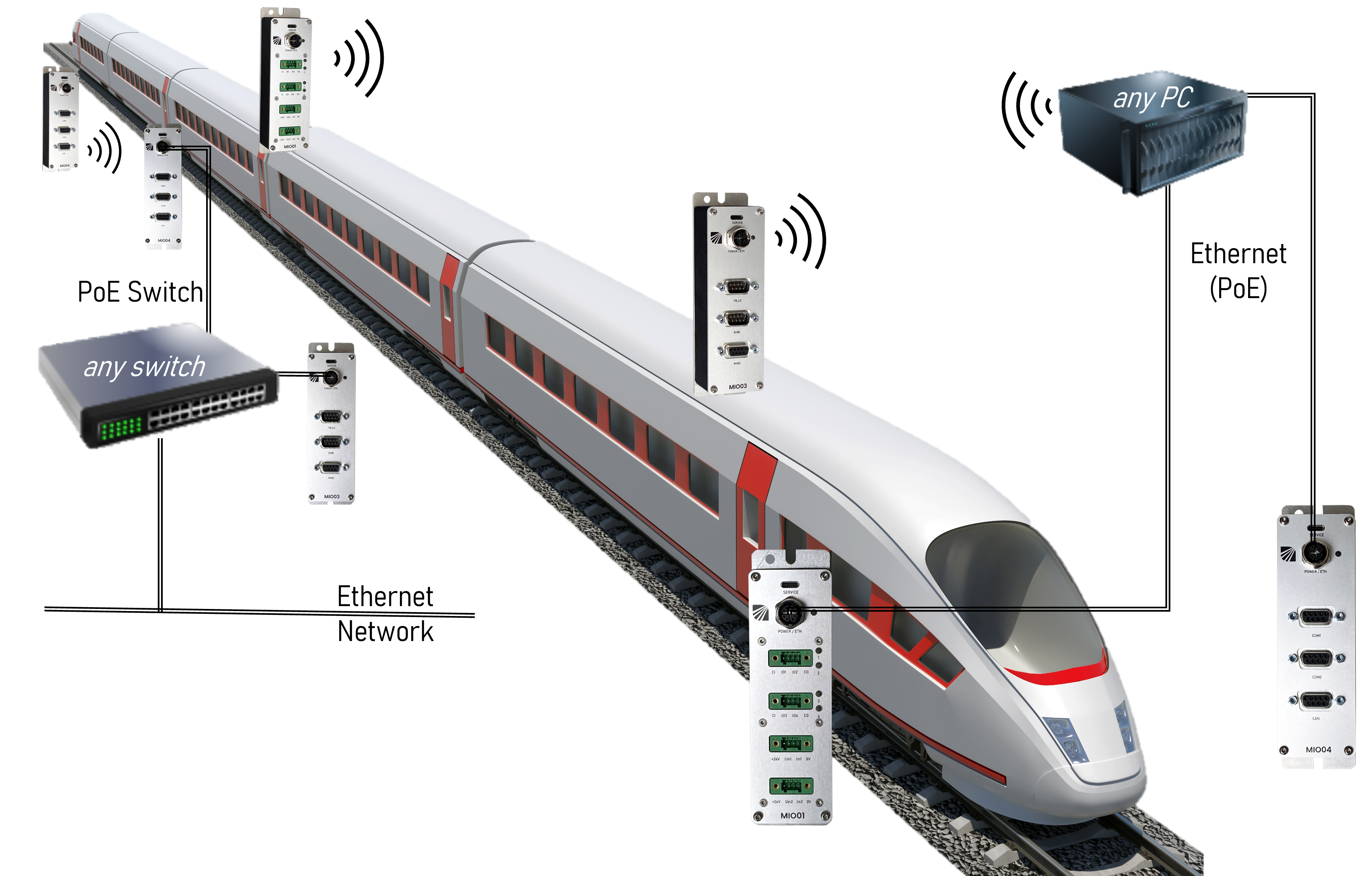 ModuSio expands existing systems with missing interfaces and sensors by simply integrating them into IP-based networks. ModuSio modules complement third-party devices as well as Ci4Rail's ModuCop.
Common features of all ModuSio components:
Smart
Integrated intelligence for smart data acquisition and processing
Flexible
Configurable as direct I/O or data logger functionality with time-stamped data streams
Up-To-Date
IT-secure firmware update, hardware/firmware identification and device restart via network
IP Connectivity
Communication via Ethernet & WLAN minimizes cabling effort
Configuration
Initial deployment via USB console; Full configurability via Ethernet & WLAN
Power Supply
Power supply made simple: Power Over Ethernet (Class 1) or via 12/24V (DC)
ModuSio Software Integration
ModuSio products are easily integrated into applications through standardized, platform and programming language independent protocols (Protobuf and TCP). They are supported by open source client libraries that provide APIs for common programming languages.
API functions include:
Interface configuration, e.g. setting the CAN baud rate.
Direct interaction with the interface, e.g., retrieving/setting current values of a binary I/O
Defining and receiving one or more streams of time-stamped samples
ModuSio – IP based I/O Modules
MIO01 – Binary Input / Output
Acquire analog values without the risk of signal interference by long cabling. Control binary inputs and outputs easily via Ethernet or WLAN. Use as an interface or as a data logger with streaming functionality.
Product Features:
Ethernet & WLAN communication
Power supply via PoE or 12/24V (DC)
2×2 Digital Inputs / Outputs via two 4-pin spring clamp terminal blocks
2×1 analog input per 4-pin spring terminal block
Galvanic isolation of all inputs and outputs
Usable as direct I/O and as data logger with multiple data streams
To acquire existing vehicle data, tapping the data from the vehicle bus is essential. To minimize the risk of re-certification, any data acquisition must be completely non-reactive. Our remote IP-based modules allow minimal cable lengths.
Product Features:
Ethernet & WLAN communication
Power supply via PoE or 12/24V (DC)
1x MVB listen only – via 2x 9-pin Dsub (male / female)
1x CAN listen only – via 1x 9-pin Dsub (male)
Galvanic isolation
Data logger functionality – receives multiple time stamped data streams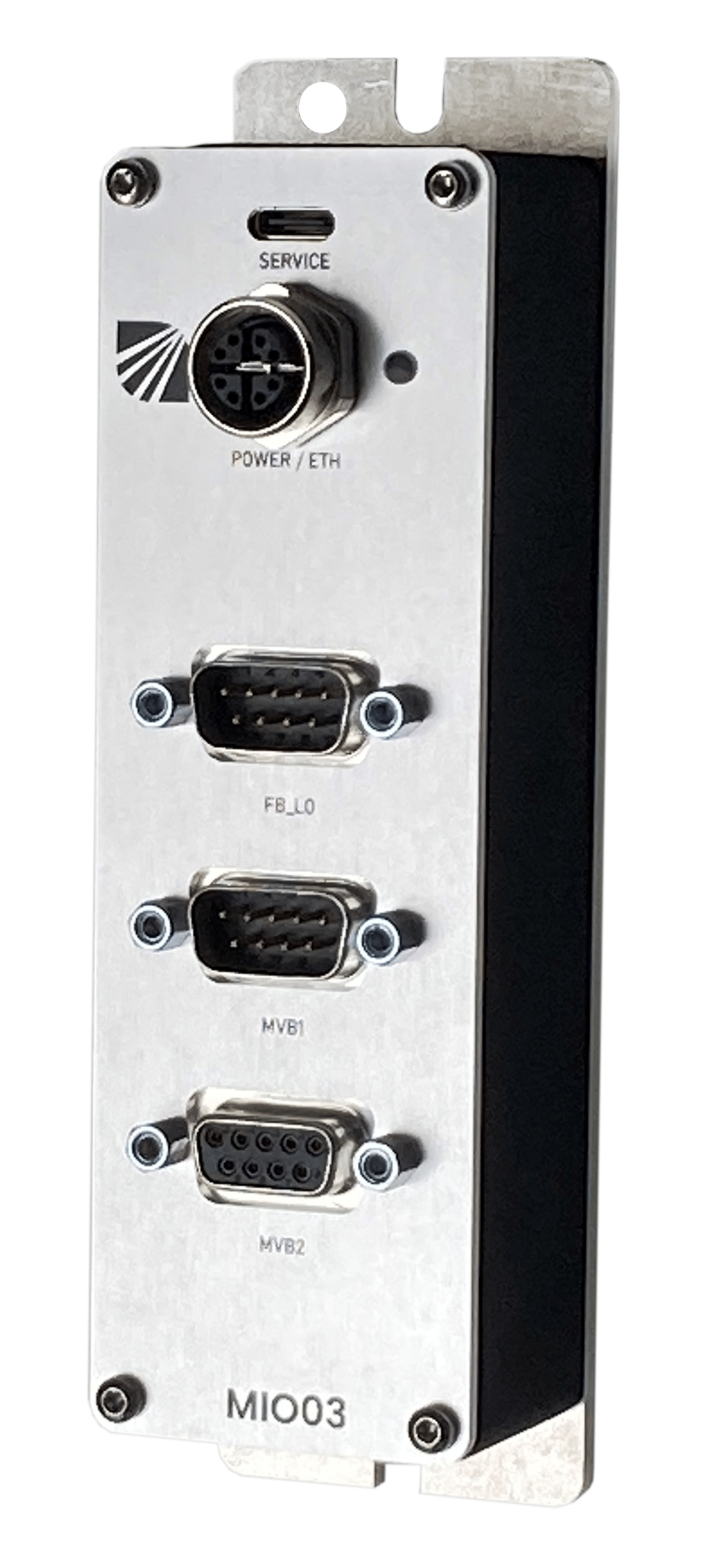 MIO04 – CAN & Serial Interfaces
It is impossible to think in advance about all the interfaces that occur in a vehicle. Subsequent interface integration often fails due to the modularity of your system. IP-based interface modules create the necessary abstraction.
Product features:
Ethernet & WLAN communication
Power supply via PoE or 12/24V (DC)
1x CAN with up to 1 Mbit/s via 9-pin Dsub (socket)
Usable as direct I/O or data logger with multiple time stamped data streams
2x RS232/422/485 via 9-pin Dsub (socket)
Linux TTY device support
Galvanic isolation of each interface